Chadd and his loyal followers. The Chadd(Huddle House) World Order.
Huddle House World Order. Not much can be said about them due to their mysterious nature. They never come out during daylight hours. From Left: Doris, long thought to be the reason that the HHWO was started due to her enthusiasm of all things "Chadd". Chuck "The Grilla Of Vanilla", the hired muscle, rumor has it that he can cook an entire 20 pound turkey in under 90 seconds. Mabel, the brains of the operation, the namer/creator of the "Chaddy-Mac Combo", 4 1/4 pound beef patties in a large roll, sided with 2lbs of fries, 7 strips of bacon, 4 eggs, and 2 large waffles. All with a 52oz Mountain Dew, no ice.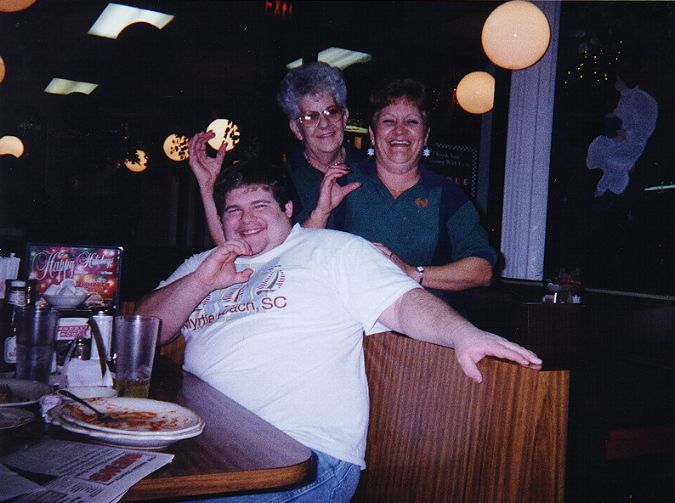 Chadd is currently calculating a plan to make himself the mayor of Dillsboro. Upon his election he will immediately expand the "Huddle House" to a 240 square acre training/restaurant facility and aptly rename it the "Huddle House Restaurant and Training Facility". With the railroad junction in that area he will be able to extend his influence to the outlying areas.
Click here to see Chadd mugging some poor unsuspecting victim.
Click to see Chadd's poor excuse for a dance.
Click here to see Chadd's poor pick-up lines at work.
More information will be added when available.